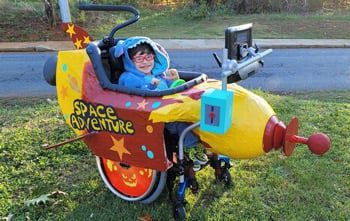 Hallowheels Fundraiser 2022
October 29, 2022 @ 8:00 am
-
November 4, 2022 @ 12:00 am
VOTE HERE!   Children's Assistive Technology Service (C.A.T.S.) is holding our 6th Annual Hallowheels fundraiser this October. Hallowheels is a costume event which transforms wheelchairs and walkers into vehicles of imagination, transporting children to a place of fun, creativity, and possibilities.
Hallowheels 2022 will feature one-of-a-kind children's costumes, designed, and crafted by their families, with instructional videos and costume kits supplied by C.A.T.S.   We will hold local Hallowheels events for the children and families to showcase their costumes and to participate in Halloween festivities.
Pictures of their costumes will be posted on our website during Halloween week: October 29- November 4, 2022.  Followers can make a $1.00 donation for each vote for their favorite costumes.  All proceeds support C.A.T.S. assistive technology reuse program.
Hallowheels is the perfect expression of why we do what we do.  The joy and pride in our children's eyes and the love and patience in their parents' eyes say it all.  Please join us as we celebrate our children and parents this Halloween.
Participant Sign Up: Closed for 2022
Sponsorship Opportunities: Closed for 2022
For more information contact: Erika Jenkins, Hallowheels Coordinator at [email protected]