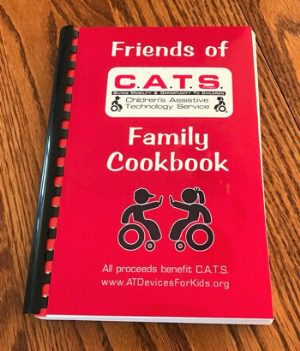 C.A.T.S. Cookbooks Available!
This cookbook has been created and designed by the Friends of C.A.T.S. and supported by several sponsors as a fundraiser to help fund the program across Virginia.   The cookbook features:
265 Recipes
9 Categories; 11 Sub-Categories
7 pages full of information and valuable reference material including "When Getting Kids to Eat is a Challenge" by
Cathie Cummins, PT, Founder of C.A.T.S.
CATS provides adaptive equipment such as wheelchairs, gait trainers, walkers, standers, and many more at NO COST to children with disabilities that need it!
Cookbooks make great holiday gifts!   Get yours today by clicking here!